What is a 'workcation', and why does it exist?
Most of us haven't had a holiday for a while. And with remote working, people are essentially able to work from anywhere. With the need for a change of scenery and the ability to travel, the work away from work mentality was born. For the digital nomads, remote workers, and corporate home office workers, what could a workcation do for you?
What is a workcation?
The workoliday or woliday combines business and leisure, giving people a chance to unwind in a beautiful new city without using holiday allowance. Simply put, it's work + vacation. 
The workcation isn't just about traveling. It's also a wellbeing tactic. We've been confined by restrictions for a long period of time, arguably more than anyone thought we would. Employees want to, and need to, have some freedom back. If the workcation is a way to do that, why not try it?
"After the last few years of restrictions, we have seen a growing trend of people booking workcations. The flexibility of working from home has allowed many to explore the options available. Living in a different city for a couple of months gives the individual time to soak up the history, culture at the weekends, and explore the different restaurants and activities available during the week." Rachel Samuels, Head of Sales at InnClusive.
What are the benefits of a workcation?
Traveling with a steady paycheck
The obvious one, you get to enjoy new experiences while keeping a steady paycheck. Pre-COVID if we wanted to travel for an extended period of time, we'd most likely have to quit our office job. Now some companies are giving employees the option to work completely remotely. 
That opens up the ability to experience new cultures, and really live like a local in some locations – we believe this can boost what you bring to the work table. The more you've seen of the world, the more a holistic perspective you can have. That's also beneficial to employers. 
Escaping the 9-5 routine
Although it's more of an 8-6 for some. It's easy to fall into the routine of wake, work, dinner, TV, repeat. There's no spark in your day, nothing new to try in the week – it's all saved for the weekend.
Taking a workcation completely dissolves that frame of mind. Instead of turning on Netflix, you could be strolling the streets of Edinburgh, and immerse yourself in Aizle's dining experience. 
This is what you could be enjoying.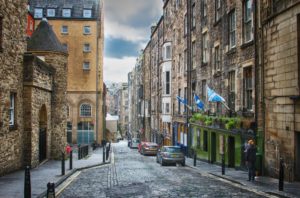 Increased employee retention and advocacy
One for the employers or employees looking to convince their boss. Employee satisfaction is a major driver for employee retention. Forbes shares that:
96% of employees believe showing empathy is an important way to advance employee retention

89% of workers at companies that support wellbeing initiatives are more likely to recommend their company as a good place to work
And the challenges
With every new concept, come challenges. 
The workcation only works for remote roles
Sadly, the workcation isn't possible for everyone. Even if you're able to work remotely, can your role be done from another city? Will the WiFi be strong enough to support Zoom calls with your team?
These are all factors you have to consider, and if you run into them, you need a backup plan. Taking a workcation shouldn't mean you're not able to do your job. Do your research and make sure you'll be able to complete your day-to-day responsibilities.
Does it undermine work-life balance?
While taking a break from your routine increases motivation and can inspire you, should we be promoting the idea of a working holiday? Some argue it disrupts work-life balance, as you start to associate holidays with work. Plus, you might start to think 'but if I don't need to take holiday days, why would I?' 
Burnout then comes into question. You're still working, so you're not able to switch off and recharge. Is there a danger of a slow burnout? 
These are questions we don't know the answer to yet. Be mindful of them and check-in with yourself. If you're an avid workcation-er, head to our LinkedIn – we'd love to hear your opinion. 
How to book a workcation
First, you'll need approval from whoever you report to. We think being transparent in your movements is the best way to build trust and introduce your company to the workcation concept. 
After you've decided how long you want to be away and where you want to go, you'll need to start thinking about booking accommodation. We think it's important to involve a booking agency – they take your requirements and match them to the best properties for you.
InnClusive does just that for those wanting to take a workcation for 28+ nights. The personal touch is our main focus; we'll discover what you're looking for, and use our property partners to find the best apartment for you. We only offer furnished, fully equipped apartments, and our partners have gone through a vetting process.